Uncommon, unique, unususal gifts for those who have everything.

Thats Just Wrong!
HOMER MARGE
NEW! CONE HEADS MARSHMALLOW HOTDOG ROASTING SKEWERS
* SAME MATERIAL AND SIZE AS HOMER & MARGE
* GET ON THE ORDER LIST NOW
| | | |
| --- | --- | --- |
| NAUGHTY SANTA AND MS CLAUS | | |
| FOOTBALL PLAYER AND CHEERLEADER | ORDER ROASTING STICKS HERE | |
NEW FIRE FIGHTER MAN / WOMAN LATE NIGHT CAMPFIRE HOT DOG MARSHMALLOW ROASTING FORKS
FireFighter Gifts
Silly-Funny Roasting Sticks for Hotdogs and Marshmallows

NEW!! NAUGHTY COPS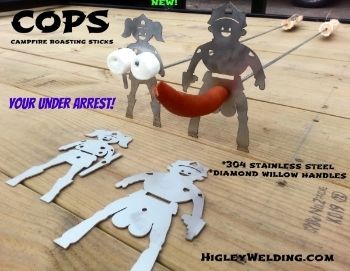 COPS GET DIAMOND WILLOW HANDLES
I need to add a button to order other designs shown below

ORDER ON LINE OR MAIL ORDER CHECK TO

HIGLEY METALS LLC
BOX 520
ROGERS,MN 55374

MAIL ORDER INSTRUCTIONS
GIVE QUANITY - ADD SHIPPING (FOR MAIL ORDER ONLY) Minnesota Residents Only must calculate 7% sales tax.
Canada-Hawaii-Alaska must add the surcharge for item to ship.

Email HigleyMetals@Gmail.com
Naughty man woman Marge-Homer - Cone Heads marshmallow hotdog campfire roasting sticks skewers.